14December 2019
There are many benefits associated with text message marketing. Below are the biggest five.
Reach a huge audience immediately, and all at once
Nearly 6 billion people have a cell phone with texting capabilities. When you consider the world's population is 7 billion, it's easy to see just how many people can be reached through text message marketing. Many of them are just outside the door of local businesses!
Text message marketing is effective
Cold calling no longer works because people don't answer their phones for unknown numbers. Email marketing has its place, but still, many emails go unopened. But, 82 percent of customers read every single text they receive within 5 seconds of receiving it. That's an effective marketing tool!
Text message marketing is affordable
Whether you do it yourself or have a marketing firm take over the task of text message marketing, it's one of the most affordable marketing methods out there. It costs just pennies for every text. When outsourcing the job, marketing firms may charge a small monthly fee.
Text message marketing is flexible
Many marketing campaigns are set to run for a certain amount of time only. Because of this, business owners only have one chance to get it right. Text message marketing is much more flexible. It can be changed to adapt to what the customer and business owner need.
Customers love it
If you can market to your customers in a way they're open to, they're more likely to respond positively towards your advertising message. And customers love text messaging. In fact, while 20 percent of the messages in email marketing are considered spam, only one percent of texts are.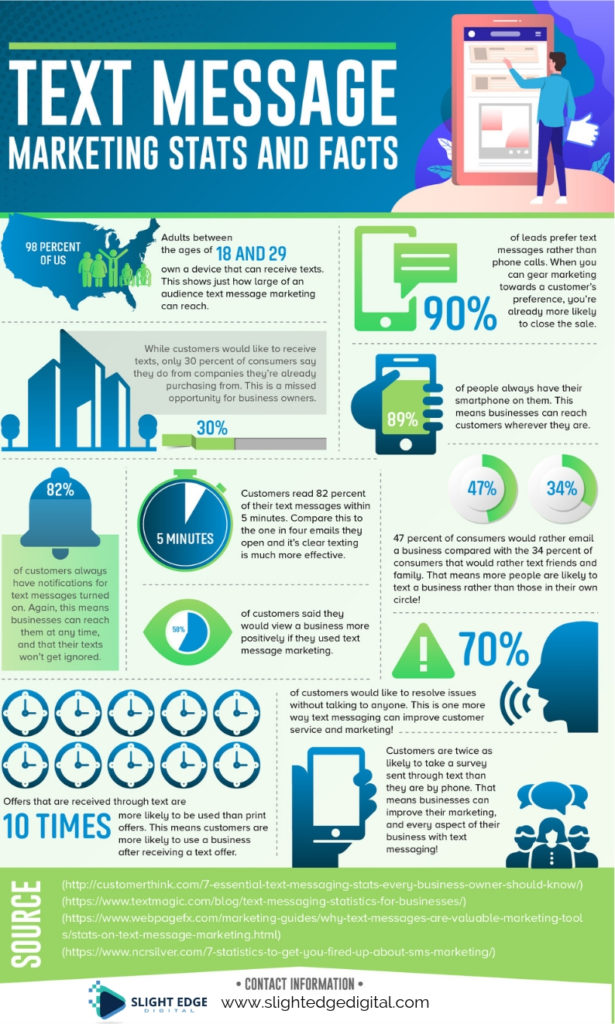 Looking for more tips on marketing? 
We offer a FREE Discovery Session for local business …. no obligation!
If you have any questions or feedback, please don't hesitate to touch base with me anytime. Slight Edge Digital is here to help your local business online!