7March 2022
Mobile websites are becoming more and more of a necessity for local businesses. What your company site offers visitors can greatly determine the success and profits of your business. It can also increase the conversion rate of potential consumers.
Designing an appealing and easy-to-use mobile site shouldn't be an if but a how. Hiring the right site designer means hiring someone familiar with all aspects of site development. This especially means that who you hire should know how to design a successful mobile site. 
It is important to know what you're looking for when evaluating and hiring a mobile site designer. You need to be able to get the most out of your company website, and this means being familiar with aspects of mobile site design that will allow you to effectively hire a designer that can respond to the individual needs of your company's site.
When looking for a mobile-designer you'll want to, primarily, make sure you're hiring the right skill set. What you specifically need in a site will determine who and how you hire. Titles you might be running into are "web developer" and "web designer." These terms are not equivalent and each signify a different set of skills. 
Web designers are the mechanics of a website, they work more on the behind the scenes of sites, using code and script to construct a site from the ground up. Web designers, on the other hand, design the flow of the site but might not be as familiar with the actual site building.
Designers should be able to provide you with a site mock up that can illustrate what their vision is for your final site. Web design companies often provide both types of experts but, depending on your particular needs and what size of a team you are looking for, make sure you're communicating and hiring the right type of skills. 
It is also important to look at the experience of anyone you're hiring to do professional work for you.
Part of "knowing who you're hiring" is asking for a portfolio and references. Whether you decide to hire an individual or a company, be sure to explore their background and work; it's important that whoever you hire can work with you and fulfill all your business needs. Reviews from previous clients serve as a useful and informative way to get real feedback about the quality of the designer's work, their willingness to collaborate, and their professionalism. 
If the type of project you need done isn't included in the portfolio then you should be comfortable discussing this and asking about relevant experience. You also should consider actually browsing through sites that the company or individual has worked on. Scroll through these sites on different devices, since you're looking to have a mobile-friendly site it's important that the sites you're looking at are compatible will multiple screen sizes.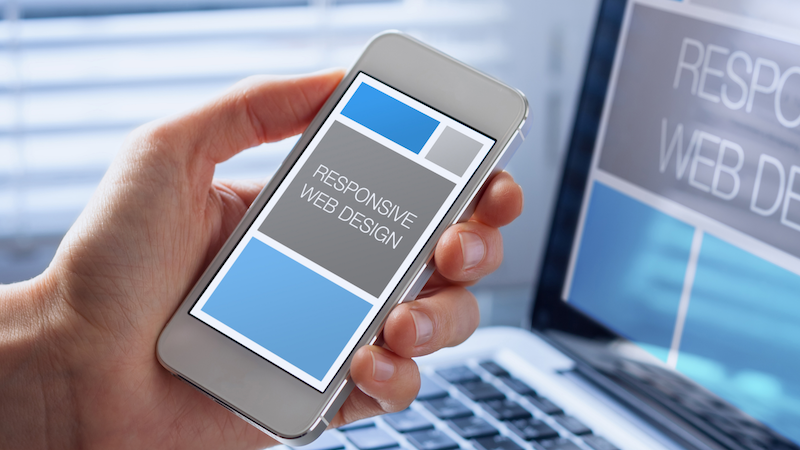 You should also know what kind of mobile site you're looking for. Some websites have a separate mobile site that prompts on certain devices, but what you're probably looking for is responsive web design, which is more effective and efficient.
Responsive web design is what allows a website to adapt to different screen sizes, the layout re-formats so that the website can be easily used on any device, making it easier for customers to navigate your site and make purchases regardless of where they are or what they're doing. As more devices come onto the market, responsive web design will continue to be a wise investment. 
If your website isn't responsive on just one type of device being used, then you risk losing out on an entire demographic of potential customers. Keeping this in mind, you'll want to find a web designer familiar with responsive web design. Any candidate you're looking to hire to build a mobile-friendly website should be able to discuss different options with you, easily reviewing the pros and cons of each.
If you decide to go with a company to handle all aspect of your web design, then after finding out about the company themselves you'll also want to know who will be involved in the completion of your website.
As I mentioned, there are multiple components to web design and development. You should ask if any of the services offered will be outsourced or if the company has a set staff that they regularly work with. Make sure you're aware of each individual's credibility in their field by seeking separate portfolios or asking about previous projects.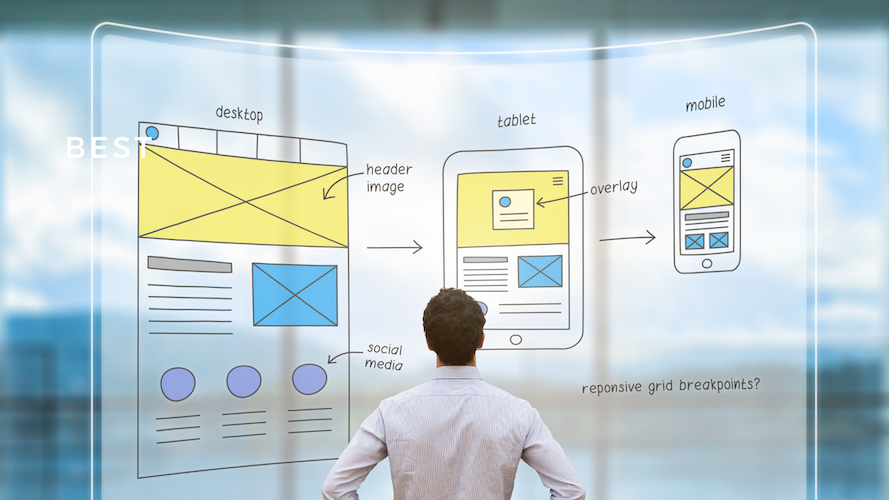 Communication is crucial when you're trying to convey your vision to someone else. Don't underestimate getting to know your site design candidates. Getting along well and sharing a similar perspective is absolutely critical when hiring a site designer.
Having a good, professional relationship with an individual or company means that your site will be completed punctually and in your business' image. Before making the hiring decision, ask the candidates for suggestions, cost quotes, and about additional services. Professional and experienced web designers will be able to articulate elements that they think will benefit your site's effectiveness. 
Lastly, since mobile-friendly sites are becoming increasingly necessary for business success it's imperative that, when hiring a site designer, you know and are able to express your business site needs and the scope of your project.
Make sure you enter any discussion prepared to review your specific requirements with potential candidates; this can be essential to finding the right individual or company to complete your project.