29January 2023
Today, we talk about the myths of social media and provide 7 social media content ideas for local business to get your creative juices going!
Due to today's socially driven consumer-base, Social Media has become a vital point of marketing. Most business owners have heard "you HAVE to be on social media." While that's true, the key to success in social media isn't only that you use it — it's how you use it.
As a small business owner, you may struggle to find the time to sit and think of amazing ideas for your social media content; such as what to post and when to post it.
Along with all of the other marketing and day-to-day operations of your business, you probably feel somewhat overwhelmed by the whole thing. This is understandable.  There are so many different moving parts of internet marketing these days that it can be extremely difficult to keep up.
The good news is… there are affordable ways you can also put the power of social marketing to work for your business.
Why Social Media?
Traditional marketing (while incredibly important) tends to be a one-way conversation with your customers and prospects. Social media marketing allows you to engage in a steady conversation with them, glean insights from their comments, and make informed, real-time decisions about your business.
Social media gives your loyal customers a platform to promote your brand for you, which can entice prospects to go from leads to new customers. You'll also be given the opportunity to hear customer feedback, test new ideas, and evolve your strategy as you learn.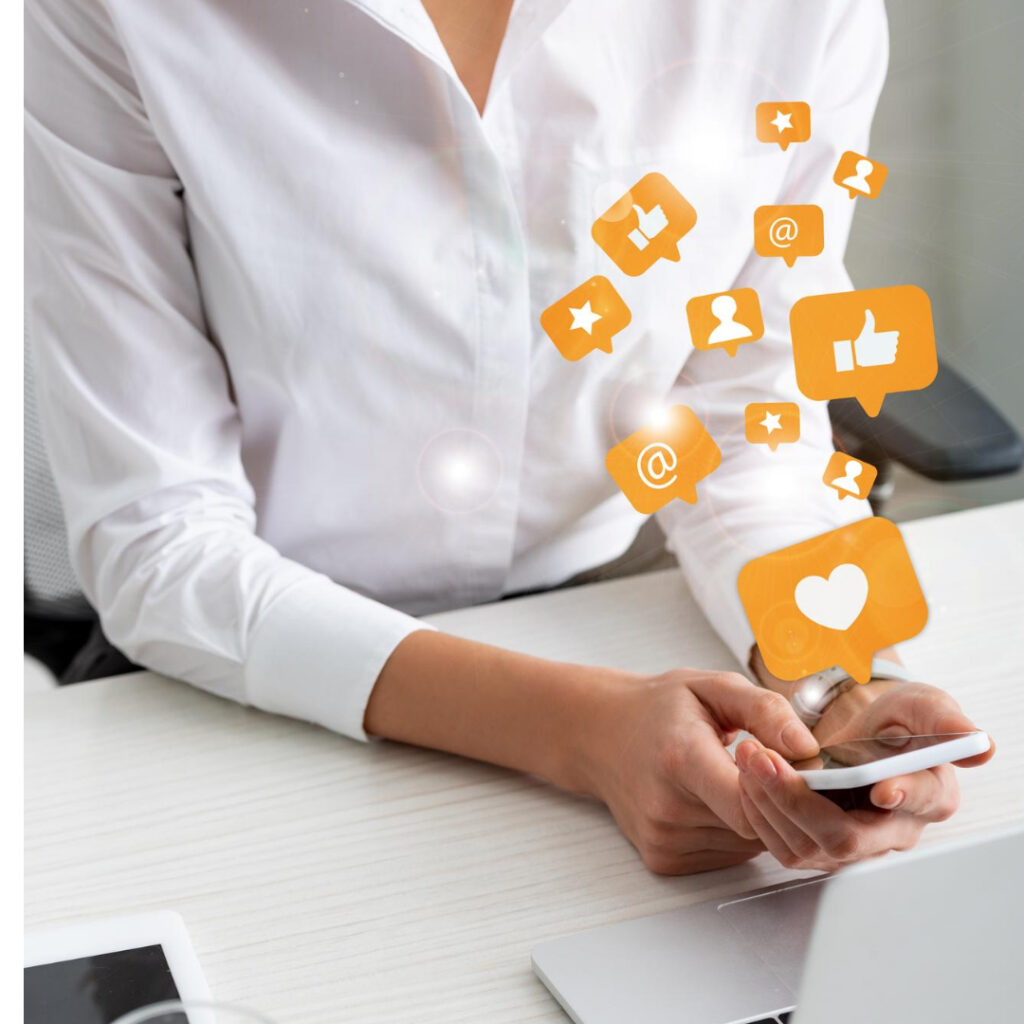 Important Social Media Stats
Another important reason to deploy a smart social media plan is plain old volume. Marketing 101 teaches us to be where our customers are. By the billions, they are on social media networks. These recent stats may surprise you:
57% of consumers will follow a brand to learn about new products or services while 47% will follow to stay up to date on company news.

After following a brand on social media, consumers continue to engage in various ways. Ninety-one percent visit the brand's website or app, 89% will buy from the brand and 85% will recommend the brand to a family or friend.

The top four reasons consumers will unfollow a brand on social media are poor quality of product or support (49%), poor customer service (49%), irrelevant content (45%) and too many ads (45%). (According to Sprout Social)

People on social media sites are comprised of all ages, socioeconomic groups, genders, religions, etc. In other words, your target audience is on social media.
In addition to volume, the changing behavior trends of consumers are another key factor to consider when creating your social media strategy. Customers simply aren't paying as much attention to traditional ads as they once did:
86% of people skip television commercials.

A shocking 91% of consumers have unsubscribed from corporate emails they previously opted into.

Almost half of all direct mail goes unopened.

Internet and social media marketing make up 25% of all ads today. That number is expected to rise rapidly in the next few years.
This may be refreshing news to you if you're already on track and revving up your online marketing initiatives.  However, it could be bad news if you still haven't started yet. Social media marketing is far less expensive than other traditional mediums; so this will make your Return on Investment (ROI) better than most traditional methods. In other words, you can generate more business for less money.
Common Myths About Social Media
Let's get the common myths out the way. If you have some preconceived notions about social media marketing, you're not alone. Some of your instincts may be spot on, but some may only be hype, generated by people who still want you to place big media buys.
While you're growing, social media can be an incredible source of leads, brand building, and, well…income. It's true, you'll likely need the help of experts once you get started and have taken your social media presence as far as you can, but you may be surprised how far you can take it on your own.
For starters, learn the truth about some common misconceptions:
1. Myth: I need a social media department to be successful
Truth: Not necessarily. If you have the budget for the extra bodies, that's great. Hire a team. But in a couple of hours a week, you can create and maintain a relevant and lucrative social media presence.
2. Myth: I don't have time to post
Truth: If you have two hours a week to dedicate to networking, phone calls and traditional marketing, you can absolutely carve out the time to be effective in social media.  Furthermore, simply hiring a social media consultant to handle it for you will be less expensive than dedicated employees to do the job.
3. Myth: Social media sites are for young people
Truth: Please scroll up and take a look at the data. Literally everyone and their mother are on social media. With a little help from the experts and free online tools, you can reach your target audience – no matter who they are.
4. Myth: The sites are too complicated for me
Truth: Each network has a quick and simple tutorial. These sites were designed with simplicity in mind. With a minimal time investment, you can learn how to post and maximize your presence on each site.
5. Myth: There's just not enough good stuff to post about my industry
Truth: This myth is precisely why this guide exists. The prospect of filling an editorial calendar for your social media sites can be daunting. The idea can be so overwhelming that you may be missing some hidden nuggets to spark your creativity.
7 Social Media Content Ideas
To kickstart your mind into gear here are 7 inspiring content ideas for posting on social media . Once you start reading the items, it will trigger some of your own ideas and give you the fuel you need to generate some interesting content.
1. Sales, Coupons & Promotions
Why not start with the obvious? Everybody loves a deal.
Definitely keep your audience excited with special offers, discounts and promotions to people who are connected with you on social media.
Not only will this keep them glued to as they await your next offer, but it's a subtle way to increase sales.
2. Industry Stats & Data
Large companies are great at this. Insurance and Financial Services organizations use stats and data (usually scary numbers) to drive action from their audiences.
The same can work for small companies. Share key stats about yours and other related industries. Sometimes, your audience just needs some facts to help them understand the impact your business could have in their lives.
In other words, it's an effective way to soft-sell them on your services. 
3. Links to Your Blog Posts
Yes, you should blog! Believe it or not, you have relevant and useful things to say. After all, you own a business, so you probably have a lot to say.
Once you put the blog on your website, drive traffic to it.
How?
Simply post a link to your blog posts on your social media profiles.
This includes both new and older posts that may need to be re-highlighted.
4. Infographics
People love to learn about something complicated by looking at a simple picture. Search for Infographics related to your industry and share them.
Take it step further, and create your own infographics to share.
Your audience will love these and share them with others as well. For instance, a small daycare may post a flowchart depicting different ways to handle a three-year-old's tantrum.
5. Product Photos
These can either be pictures of the product itself or of your employees or customers using it.
Ask your customers to submit photos of their family engaged in an activity related to your business. For instance, a restaurant may ask for photos of their customers eating at their establishment.
By making your customers feel like reality stars, you'll attract more loyal followers and impressively boost overall social engagement.
Not only that, but sometimes, "seeing is believing." So posting images of your physical products can really entice people to buy.
6. Ask for Product Feedback, Testimonials, and Reviews
Display instant social proof by simply asking your customers to tell you what they think about your business on social media.
Don't get too caught up thinking about negative reviews. In our experience, most reviews tend to skew on the positive side.
Ask your best customers to say a few words about you, your staff, your products, and your services.
7. Offer Tips, Tutorials, and How-Tos
Post quick tips in written, picture, or video form to help your audience with specific actions related to your product or service.
You can probably think of a thousand things your customers and potential customers struggle with; help them out with a series of content to make their lives easier.
A yoga instructor may give some tips to help his or her customers choose the best yoga mat or best retreat destinations.
In summary:
There are no hard-and-fast rules about which social media sites you should use. While it's true that certain platforms work best for particular types of businesses, there are innovators in every space. With creativity and practice, you can learn new ways to use social media to your advantage.
Need help to jump-start on the content you can post on social media to engage your fans and followers – and ultimately, boost sales and profits?
Contact us for a free discovery session!
Voted in Best in ADELAIDE for Social Media Services